The Perfect Wedding Gift – Glass Etching
We are in the peak of the wedding season and it seems like it becomes increasingly harder to find that perfect weeding gift. At The Wall Works we offer glass etching. Glass etching is placing a pre-spaced and pre-designed cut out of our vinyl lettering to a specific area.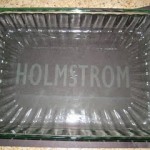 This can be placed on any glass surface. The most popular seem to be glasses, vases, business windows and doors, as well as my favorite the Pyrex baking pan. After you apply the vinyl lettering stencil you place a small amount of the "glue" that we include in your order. You let it dry and rinse it off. And that's really how easy, quick, and simple glass etching is. Glass etching a newlyweds last name in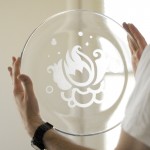 to a Pyrex dish adds such elegance and uniqueness to any wedding gift as well helping you save money.
You can etch any design or any quote or lettering into any glass area, it is not limited. We can create a custom image for you as well as upload one of your current designs. Contact our vinyl lettering custom design team at The Wall Works and we'll be in contact with you within 24 hours.  As always, we offer the lowest prices in vinyl lettering and lead the industry with our cutting edge technology.