20% off ALL Vinyl Lettering Orders
At The Wall Works we are offering 20% off all vinyl lettering orders.  All you need to do is send us a picture of how you've used our vinyl.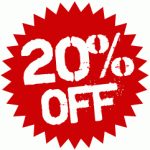 We have been amazed at the creativity and endless uses for our custom vinyl lettering at The Wall Works. Please continue to send us pictures of your wonderful creations and in return we'll send you a coupon code for 20% off your next order (no limit).  Hurry because time is limited.  Thank you to all of our loyal customers!  Please send your pictures to: info@thewallworks.com.