Custom Lettering for your Mailbox
MAILBOX LETTERING – The Wall Works
Custom vinyl lettering and decals is available for your mailbox in a variety of complimentary colors. The possibilities are endless and you control the look and feel by selecting the font and color.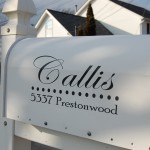 Many community associations, private developments and developers have created a signature for their homes by selecting a style of mailbox post, color of mailbox and lettering layout to incorporate throughout the entire development. This uniformity creates an image for the community and adds a great street scape to every home in the development. Feel free to email us with a picture and our custom design team can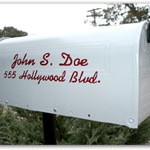 replicate it into custom vinyl for you.
We have a number of customers throughout the country that have added their own personal unique touch by adding their last name or even a small decal. As always, if you can't seem to find exactly what you are looking for on our site, we have access to thousands and thousands or images as well as a full time professional design staff.