Vinyl Lettering Projects
Vinyl lettering is a craft project that is easy to do, and easy to undo. To install vinyl lettering you create your design, remove the protective backing and then apply it to almost any surface. To remove a vinyl project,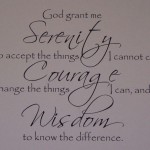 apply moderate heat with a hand-held hair dryer, and the vinyl should come right off. Vinyl does not create a mess on the adhered surface, and anyone in the family can get involved in vinyl lettering projects.
On the Walls

Vinyl lettering can help you to put signs and information on the walls of your home that make a unique presentation. In your child's bedroom you can put their name on the wall in large letters, list their favorite cartoon characters or include the name of their favorite sports star. Instead of buying a plaque with a saying on it for the kitchen, you could create the saying in vinyl and install it directly on the wall. You can add names and captions to pictures mounted on the walls, directions to important rooms such as the bathroom and the kitchen and you can thank everyone for visiting your home with a vinyl sign by the door.

Glass Block

Glass blocks can be used to make fascinating vinyl lettering projects. You can use the standard window glass blocks as bookends with your initials on them in vinyl, or as door stops with a your family name on them. You can get vinyl that looks like frosted etching and make some beautiful signs of someone's initials, or even your favorite number. Place a light behind your glass blocks to add to the effect. Try differently colored bulbs to see which one looks the best. You can put your design on a hollow glass block and place a candle inside for added effect.

Wood Blocks

By doing something as simple as cutting a piece of wood into blocks, you can create a home project that will add color and beauty to your home. Make a block for each member of the family, mount a picture on each block and then write the person's name in vinyl. The advantage of vinyl is that you can create and cut the entire design as one piece. This may be easier than trying to paint a person's name on the block by hand. You can also make smaller blocks with individual letters on them as play blocks for your children.