Vinyl Lettering for the Laundry Room from The Wall Works
If there is one room in the house that is generally neglected with it comes to decor it's probably the laundry room.  After all, what can you do to decorate a laundry room?  Well, at The Wall Works we offer free design consultation with our in house professionals.  We also have a "laundry room" tab on the site that allows you to browse a few pre-made designs.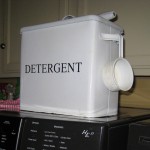 The possibilities are really endless.  Vinyl is great for the walls or to label the detergent bin.  Please feel free to email us if you have an idea in mind and would like a little help. The Wall Works has many unique, elegant, and original designs to help you decorate those difficult rooms of your home, such as the laundry room, kitchen, bathroom, or  bedroom.  Vinyl lettering can be applied to almost any clean surface, and it's removable without damaging paint.  When you get tired of one saying, take it off and replace it with another.  The Wall Works vinyl lettering is so inexpensive that it allows you to change them as frequently as you'd like, but high quality enough to keep them forever if you wish.